The stories are told in English. They are chosen to suit teenage and adult interests triggering discussion and thought. In workshops, students are asked to predict, role play similar situations and discuss ideas found in the stories. Drama activities are sometimes used as warmers.
Objectives:
Expose the students to the language they have been learning in context.
Promote an enjoyable intense listening and speaking experience
Motivate the students who realise they can follow and understand a full story or performance in English.
Now also available online! Examples here
Examples of possible sessions. Please don't hesitate to suggest other sessions that suit your curriculum and students' interests: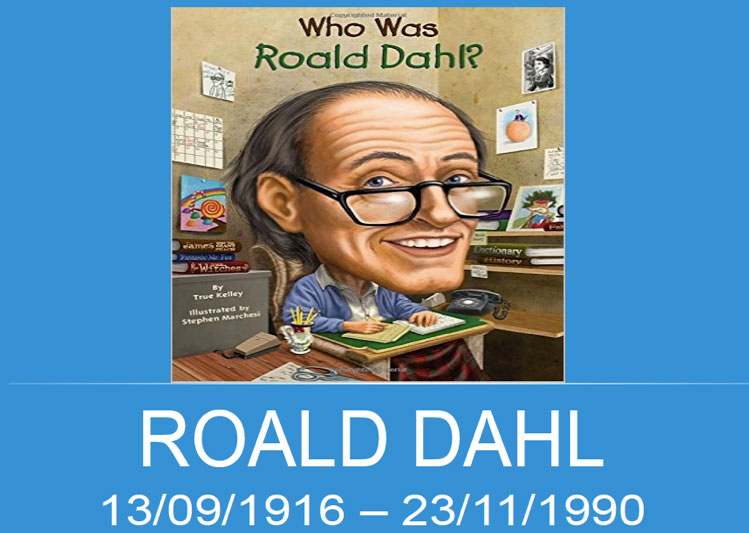 Roald Dahl for teenagers and adults: laughter, horror and dark English humour. Students are exposed to different styles of short stories and poetry by Roald Dahl and some suggestions for further reading. Tales of the unexpected, Revolting Rhymes, etc.
Level: Intermediate+ (B1-C2)
Saint Patrick's session: Myths, legends and folktales from Ireland to celebrate Saint Patrick's day or week.
Level: Pre-Intermediate+ (A2-C2)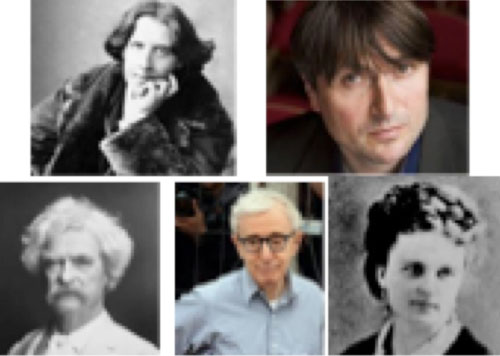 Spoken Literature: Short literary stories by American and British authors from past and present such as Simon Armitage, Kate Chopin, Oscar Wilde, etc.
Level: Upper-Intermediate+ (B2-C2)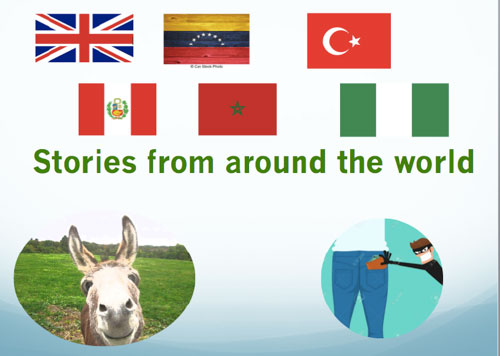 Stories from Around the World: Folk tales from around the world. Deep messages or simply laughter and surprises.
Level: Pre-intermediate+ (A2-C2)
Folk stories from England, Scotland, Ireland and Wales: Delving into the root of these cultures with laughter, sadness and surprises. King Arthur, leprechauns, dragons and much more.
Level: Pre-intermediate+ (A2-C2)
You told the stories in a very intriguing and entertaining way. You chose the authors very well. We couldn't stop listening, we were like hypnotised. Your way of talking is lovely and we didn't get bored. You're a great storyteller. Come again please! CAE 1 teenage students, British Council Barcelona.
The teenage CAE students were completely absorbed by the stories. For them, it was a fresh approach to a traditional form of communication, storytelling but not not presented in an infantile way. They were very enthusiastic about giving their own interpretations to the follow up activity of continuing the story. We all had a really nice time! Szuszanne Asher, English Teacher, British Council Amigó, Barcelona
Rebecca is a natural storyteller, my CAE class were captivated by her collection of nicely-chosen, short stories and they wanted to know at once when they could have their next story telling session! There was plenty of interaction and opportunities to get involved and even to get into some of the characters. They were left with lots of enthusiasm for story telling and were keen to tell some of their own. Anna Newborn, English Teacher at British Council Bonanova, Barcelona.
It was a really good activity because Rebecca was a very close person and passionate about telling stories. The stories were very good and I liked the way she made us participate by explaining some part of the story or the exercises at the beginning to get our attention. I think it's a great activity for our level because we could understand Rebecca and we could enjoy all the stories.
Maybe she could come next year to keep telling us a news stories. Adult intermediate student EOI, Granollers